TCoFTH: Furniture Shopping Part 1 (Eating Surfaces Are Overrated)
We have a lot of furniture already.  Between college apartments and what not, we're pretty well covered.  And we're pretty well covered with pretty decent quality stuff too.  That said, we are missing a few things, and there are some things we'd prefer to replace now rather than wait.  So we started furniture shopping.
Furniture shopping is going a lot like house hunting.  I can't figure out if we're too picky or if our budget is too unrealistic for what we want.  Based on how the house turned out, I'm going to assume we will find furniture right at the moment we give up all hope and resign ourselves to eating at the table Geoff spent many nights sharing with his ex-girlfriend (and not the one I like).
When we first went out we were looking for dining tables, both a formal one and a casual one.  We don't have a formal at all, and we just wanted a new casual one (see above statement).  We found a formal one we liked at Crate and Barrel, but I wasn't so sure about the china hutch that matched it, and it was kind of really expensive (as many things from Crate and Barrel are), so we mentally shelved it.  Continuing our adventure, we found a casual table we loved from ArtVan.  It was kind of awesome looking.  It had a nice butterfly leaf, cool shelving underneath, and was one of the taller ones like Geoff wanted.  It was awesome.  It was on sale.
It was too big.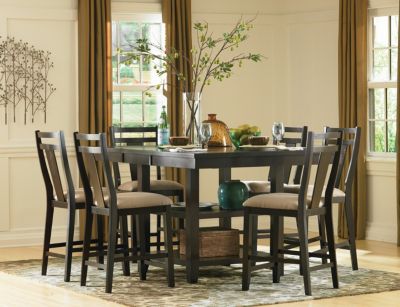 Of course we didn't know that when we ordered it.  We found it before we were actually in the house, so we didn't have any dimensions to go off of, only our guesstimations (quit putting squiggly lines under that, that is totally a real word).  One of the first things we did when we got into the house was cut out a square of paper the same dimensions as the table and lay it on the floor to test it out.  Our choices seem to be "make it incredibly difficult to get to the kitchen" or "never use the door to the deck", or the obvious "cancel the order on the table".
Depending on who you ask anyway.
We both thought it was too big when we put the paper on the floor.  We both thought it was probably too big when we propped up a smaller table top we already had on some chairs and placed it at the extreme edges of where the ordered table would sit to give us an even better idea of how it would look.  Geoff was desperate for this table to fit though (because it really was that awesome), so in a last-ditch effort to find a way to make it work he brought in a piece of plywood that was the same size as the table to put on the chairs.  This is where we started to disagree on whether or not the table is too big…he thinks it's fine all the sudden, I still think it's too big.  I feel like I'm going to have to scoot past the table any time I want to go to the kitchen, buuuuut I'm very much getting the feeling I'm going to lose this fight.  I'm trying to prepare myself for the idea that I might spend the next decade trying to not nail myself on the corner of this table every time I want to eat something.
We popped back into Crate and Barrel when we visited my parents for Thanksgiving, and saw our favorite formal table again.  We still really liked it, and they were having a massive sale which would put it into our price range.  The problem, of course, was that we again didn't have dimensions for the room and the sale was only going through Monday night.  This would be a more expensive mistake than the casual table situation though, so we called a friend of ours and promised him a 6 pack in exchange for stopping by the house and taking some measurements for us.  We played with graph paper representations of everything, and essentially decided that graph paper is really deceiving.  Since the sale was going through Monday, we opted to wait on doing anything until we could get into the house on Sunday so we could lay out paper to get a better idea of how the table would fit in the space (especially with all the chairs and the china hutch), sort of like we did with the casual table.
And again like the casual table, we disagree on what fits.
There are 2 sizes to the formal table.  Geoff liked the bigger one, I of course liked the smaller one.  I actually managed to convince him that the smaller one would be the better choice, and by the time we came to that conclusion we found out the china hutch that goes with the set had been discontinued and managed to sell out over the weekend.  Not a single store in the US has it.
Poopy.
So, rather than get the table and chairs and try to find a hutch we liked later that could kind of go with it, we opted to not do the table at all for now.  That's a pretty chunk of change we can hold on to, and since this is one of their more popular tables we're hoping it sticks around for a while.  The current plan is to keep looking for other sets, but keep an eye on this one to make sure they don't discontinue it.
The story continues (as they all do), but I think if you've even made it this far into the post you're probably tired of it already, so it shall continue another day…
Happy weekend everyone!